Regular price
Sale price
$34.00
Unit price
per
Sale
Sold out
Plongez dans la Beauté de la Nature avec le Puzzle "Du vent dans les cimes"
La nature est source d'inspiration infinie, et cela se reflète parfaitement dans le puzzle "Du vent dans les cimes" de la marque Maison Joliette. Avec ses 500 pièces, cette œuvre d'art illustrée capture l'essence majestueuse des arbres de la forêt, offrant aux amateurs de puzzles une expérience captivante.
Un Chef-d'Œuvre Artistique
Ce puzzle est bien plus qu'un simple jeu : c'est une œuvre d'art. L'image, aux teintes de turquoise et d'orange, dépeint une forêt luxuriante où les sapins s'élèvent fièrement vers le ciel. 
Défis et Détente pour les Amateurs de Puzzles
Avec ses 500 pièces, ce puzzle offre le parfait équilibre entre le défi et la détente. La variété des motifs et des couleurs rend l'assemblage des pièces à la fois amusant et gratifiant. Vous vous perdrez dans les détails tout en ressentant le calme de la forêt. Que vous soyez un puzzle addict chevronné ou que vous cherchiez à commencer une nouvelle passion, "Du vent dans les cimes" est idéal pour tous les niveaux.
Fabriqué en France : Qualité et Éco-Responsabilité
Maison Joliette est fière de créer des puzzles de qualité, et "Du vent dans les cimes" ne fait pas exception. Fabriqué en France avec un engagement envers l'éco-responsabilité, ce puzzle est une véritable pépite. Les matériaux durables garantissent que vous pouvez profiter de ce puzzle magnifique tout en réduisant votre empreinte écologique.
Un Puzzle pour les Amateurs d'Illustration
Si vous êtes un amateur d'illustration, ce puzzle est fait pour vous. L'image est une belle illustration qui raconte une histoire en elle-même. Chaque élément, des majestueux sapins aux charmantes maisons du village, possède sa propre histoire à découvrir à mesure que vous avancez dans l'assemblage des pièces. Ce puzzle est bien plus qu'une simple activité, c'est une aventure artistique.
Une Touche de Modernité
En plus de sa beauté classique, "Du vent dans les cimes" apporte une touche de modernité à votre expérience de puzzle. Les couleurs vives et les détails soignés font de ce puzzle un élément de décoration à part entière. Une fois terminé, encadrez-le et exposez-le fièrement chez vous pour ajouter une note de sophistication à votre espace.
Laissez-vous Emporter par la Nature
En résumé, le puzzle "Du vent dans les cimes" est bien plus qu'un simple jeu. C'est une invitation à vous laisser emporter par la beauté de la nature, à explorer les détails d'une forêt enchantée et à vous immerger dans l'art de l'illustration. Que vous soyez un passionné de puzzles, un amateur d'art ou simplement à la recherche d'une activité relaxante, ce puzzle saura combler vos attentes. Faites-en l'expérience dès aujourd'hui et laissez-vous emporter par la magie des cimes de la nature.
Delivery

Delivery in France , but also: Belgium, Luxembourg, Spain, Portugal, Netherlands, Austria, Bulgaria, Croatia, Cyprus, Czechia, Denmark, Estonia, Finland, Germany, Greece, Hungary, Ireland, Italy, Latvia, Lithuania, Malta , Poland, Romania, Slovakia, Slovenia, Sweden, Vatican City State, Liechtenstein, Switzerland.
Manufacturing

Maison Joliette puzzles are made from durable and environmentally friendly materials. They are produced in certified eco-responsible factories and are packaged without excessive waste. Their goal is to provide an engaging and relaxing gaming experience, while minimizing their impact on the planet.
Packaging

Delivered in a resealable and recyclable paper bag with zip, size 22 x 27 cm. Sachet packaging is a practical and environmentally friendly solution. It is made from durable and eco-friendly materials. This packaging helps to minimize waste and ensure product protection during transport. By choosing bag-packed puzzles, you are contributing to a more sustainable future for our planet.

A nice template card is provided to make assembling the puzzle easier. Printed in high quality with vivid and detailed colors, it helps to orient the assembly. With a neat design, this map contributes to a successful puzzle experience.
Security

Attention ! Not suitable for children under 36 months. Small elements. Choking hazard. Information to keep.
View full details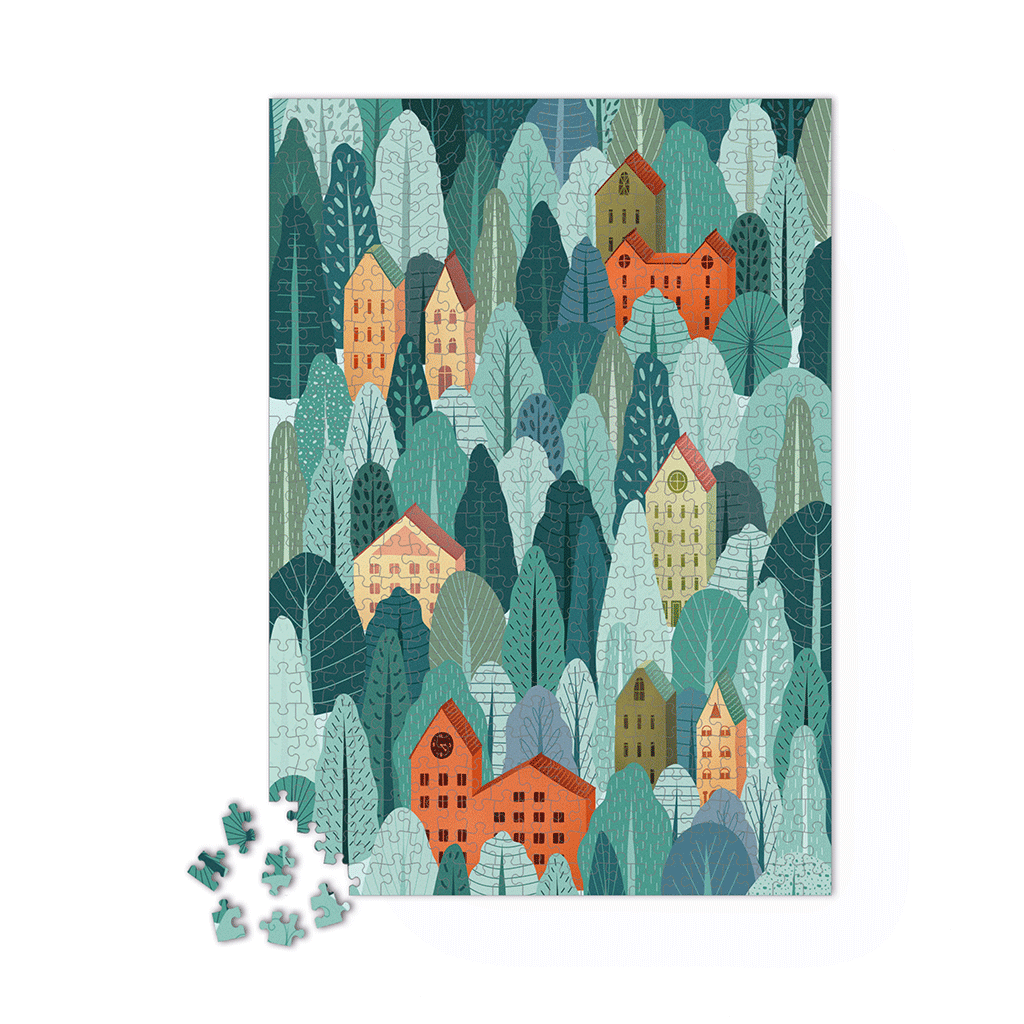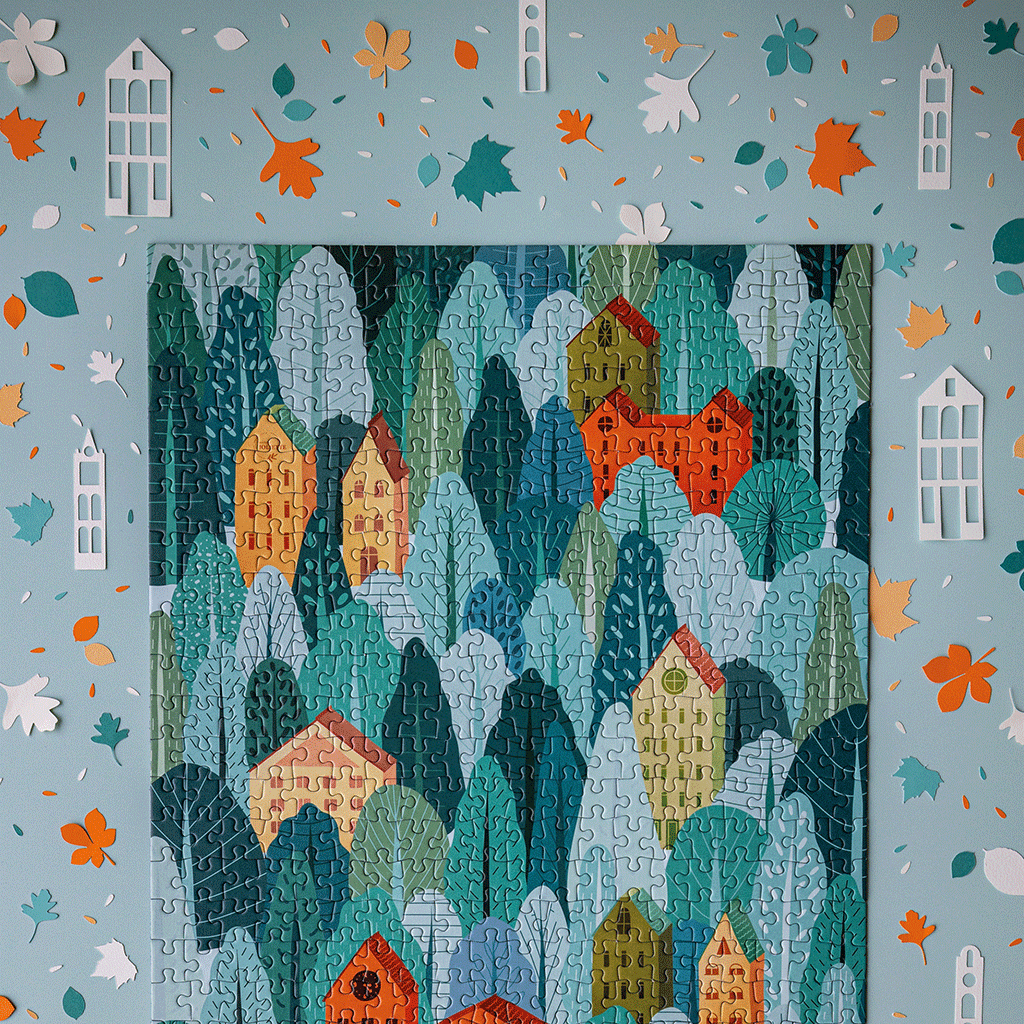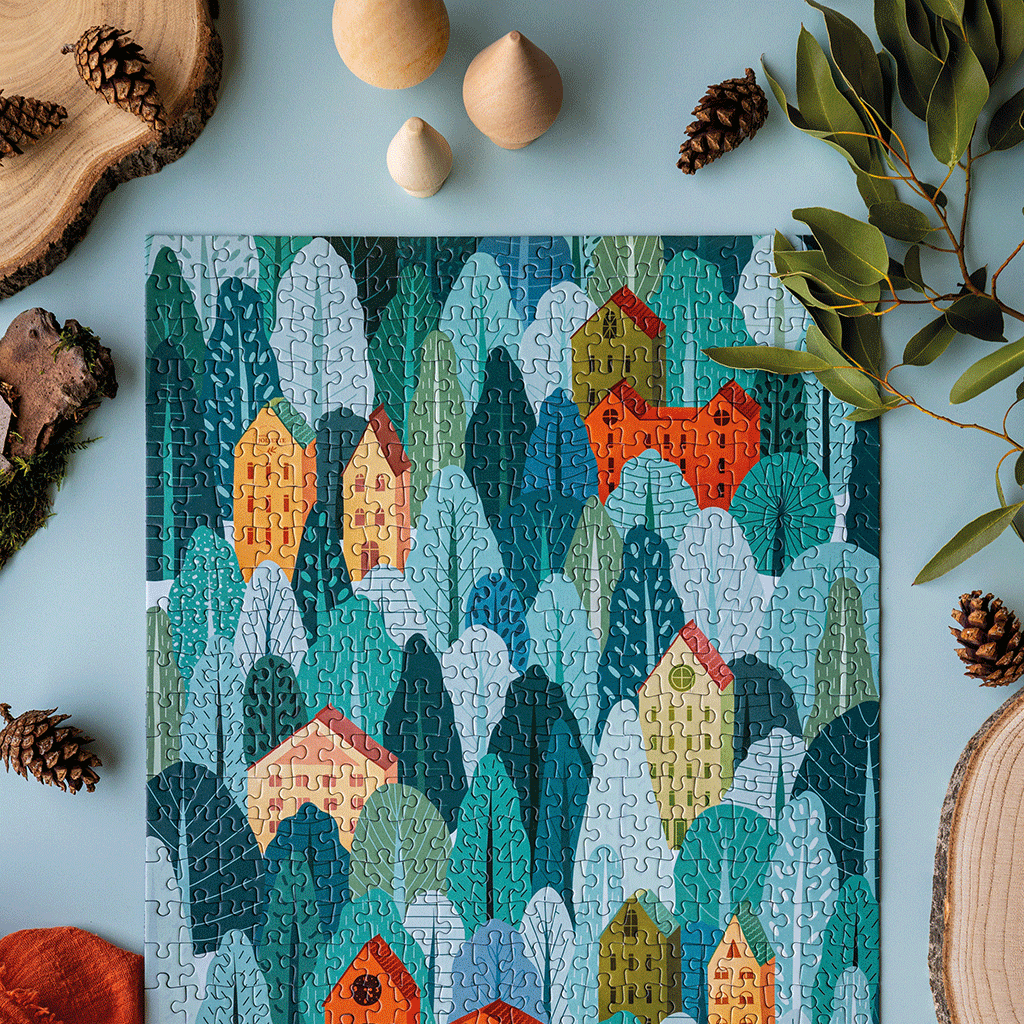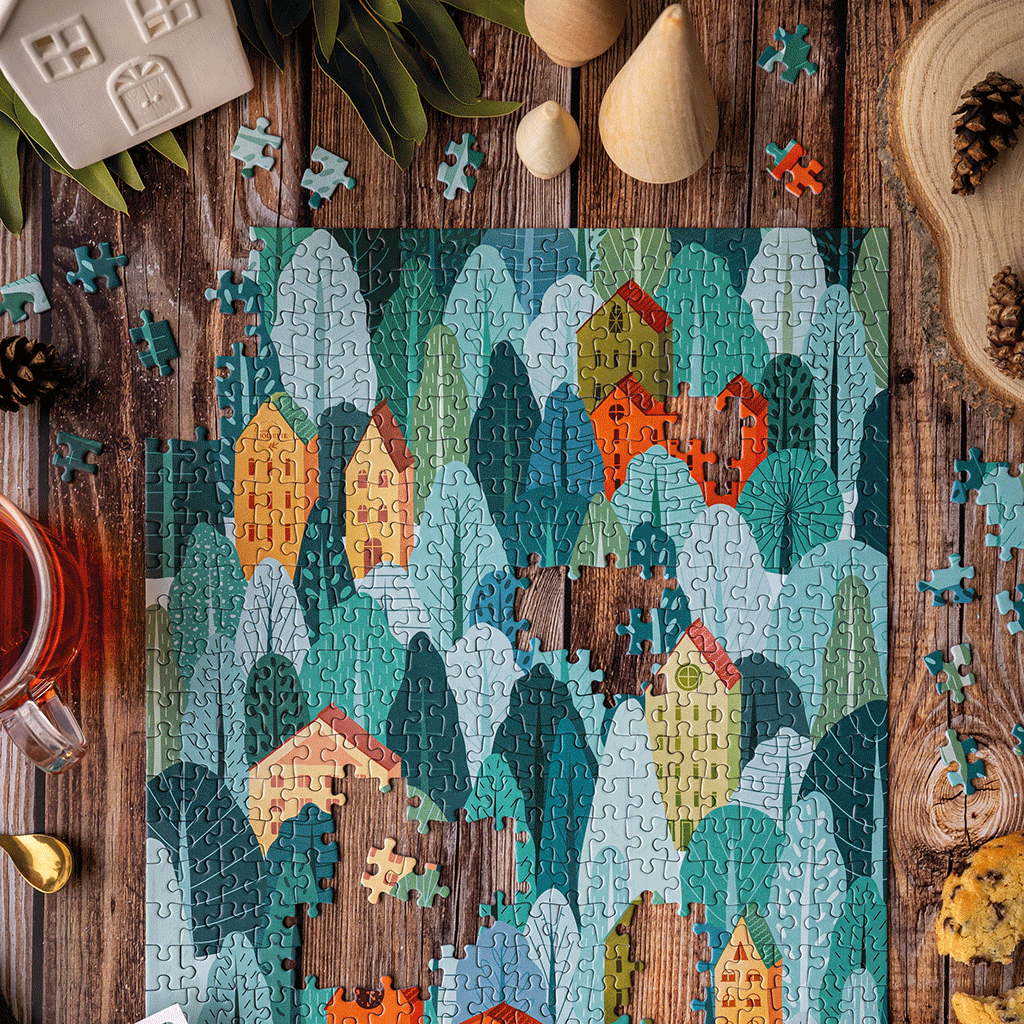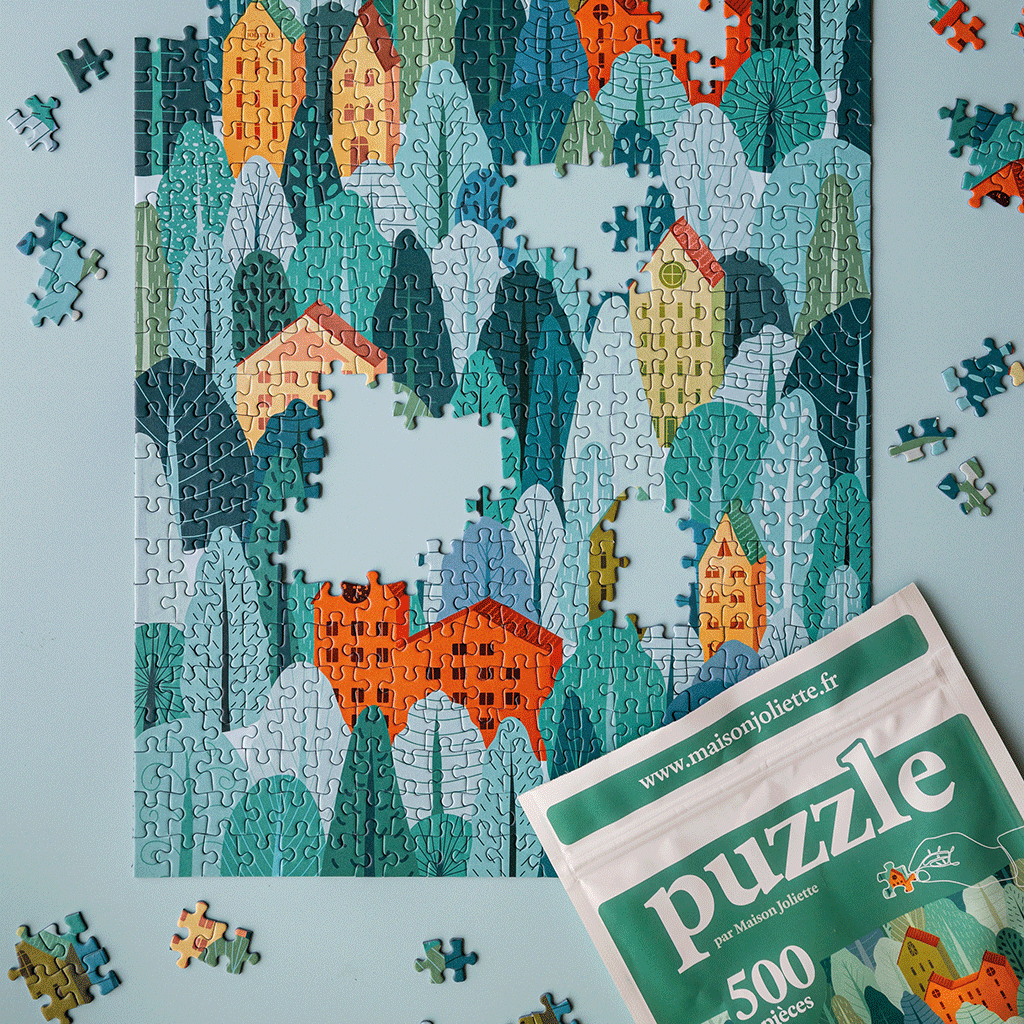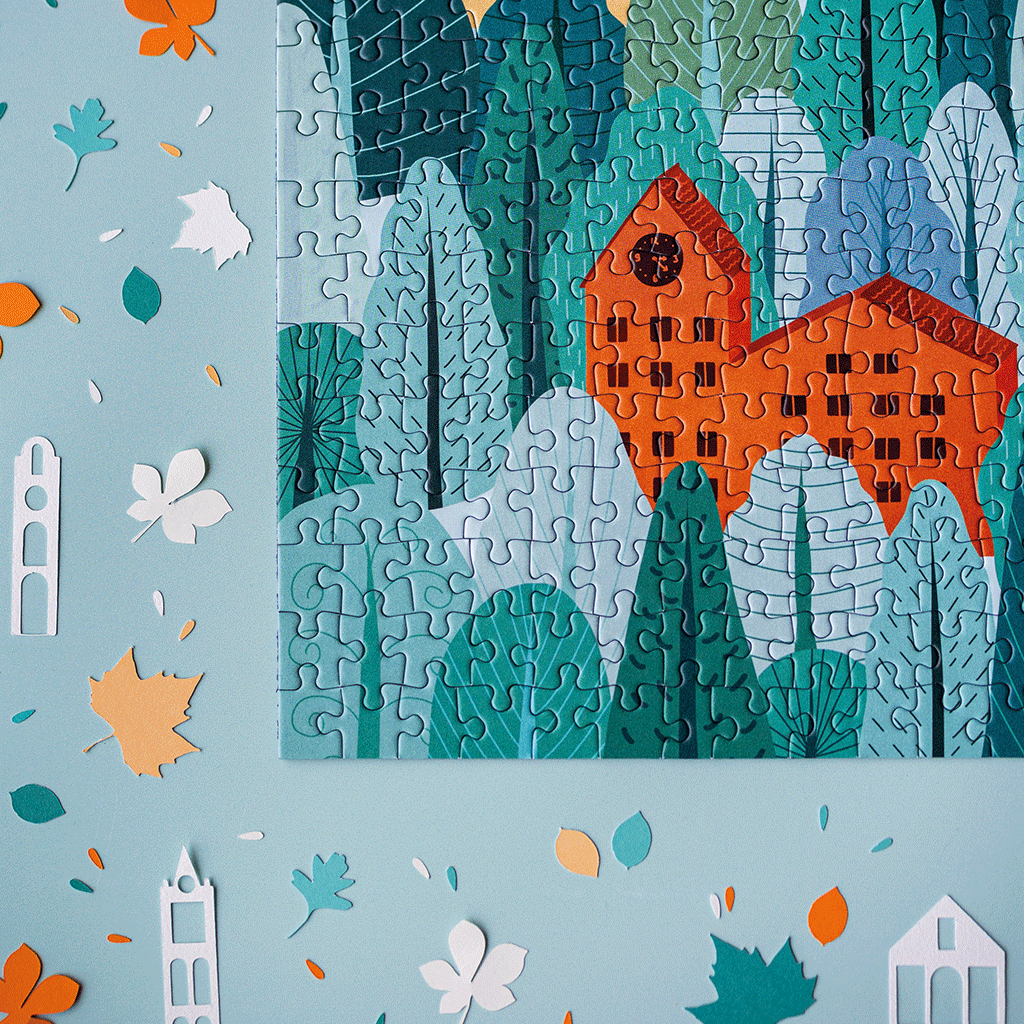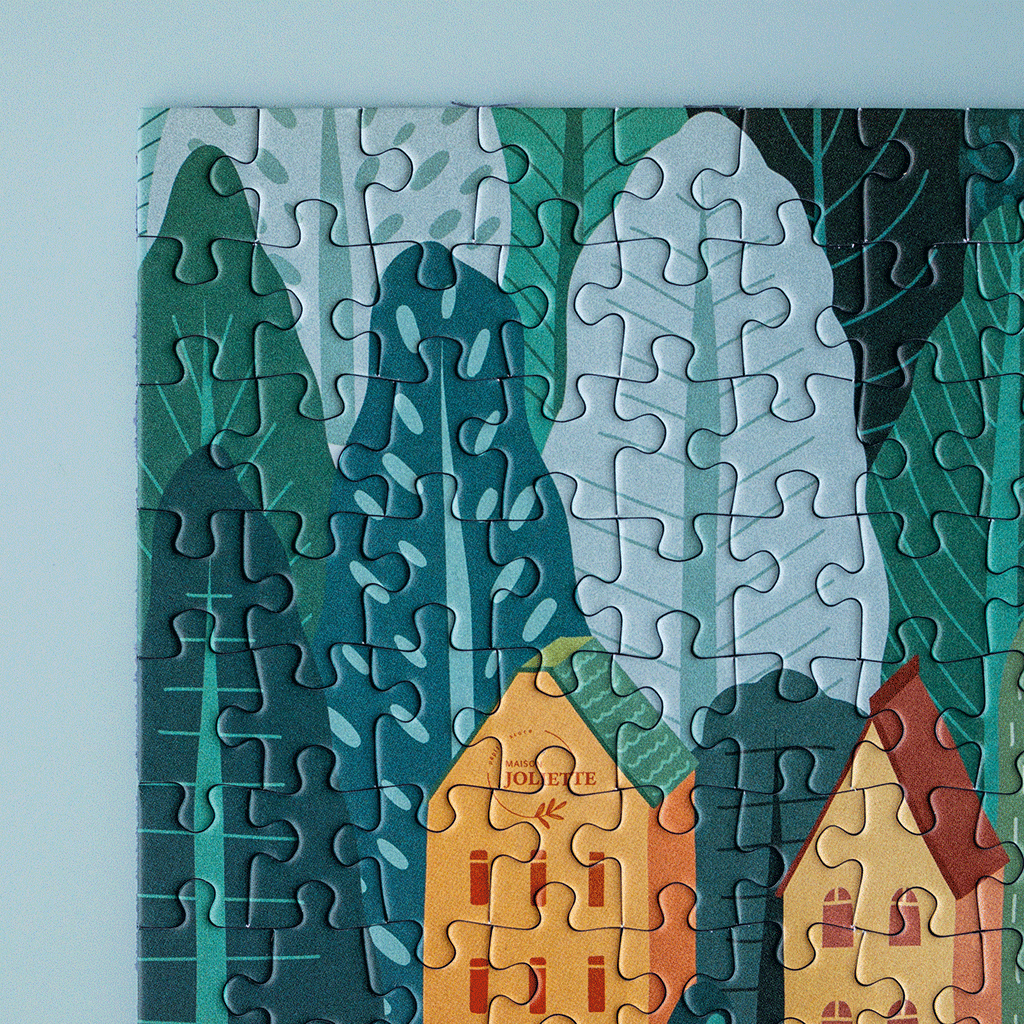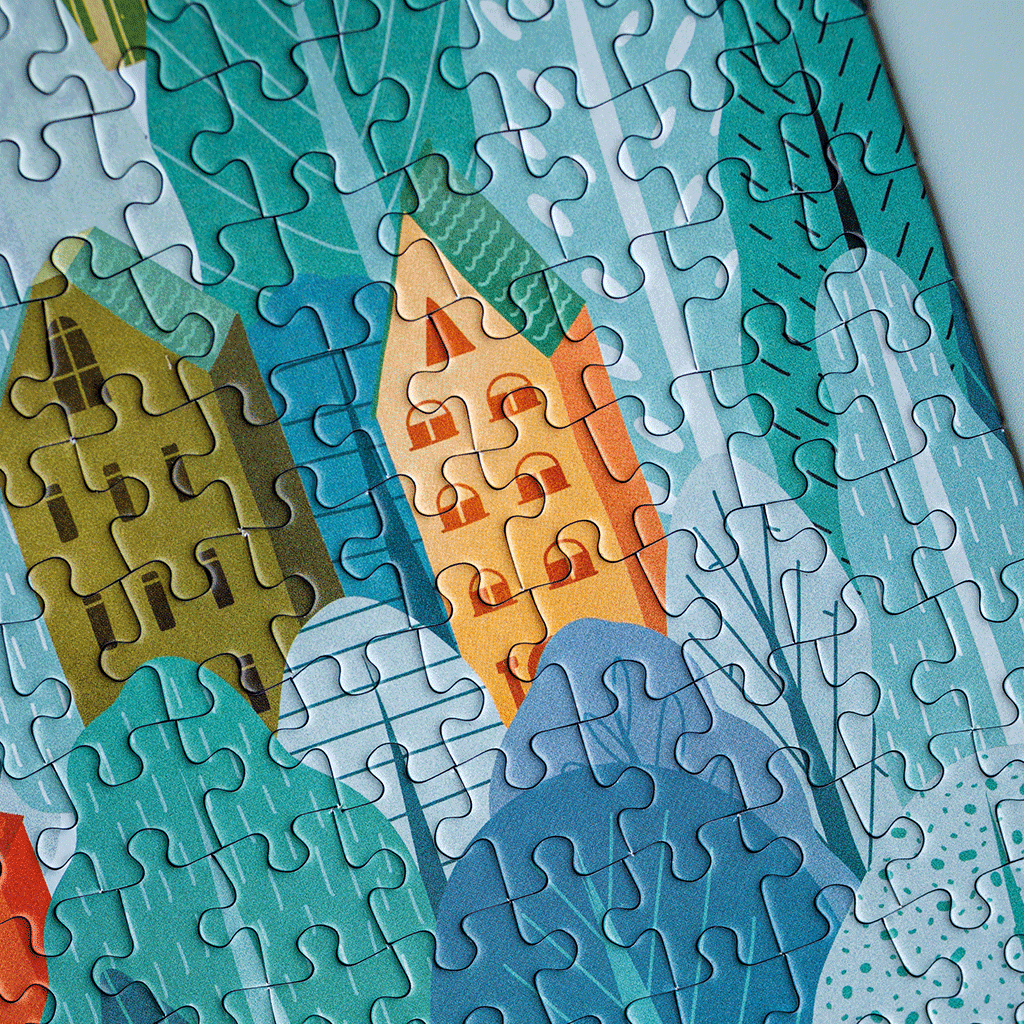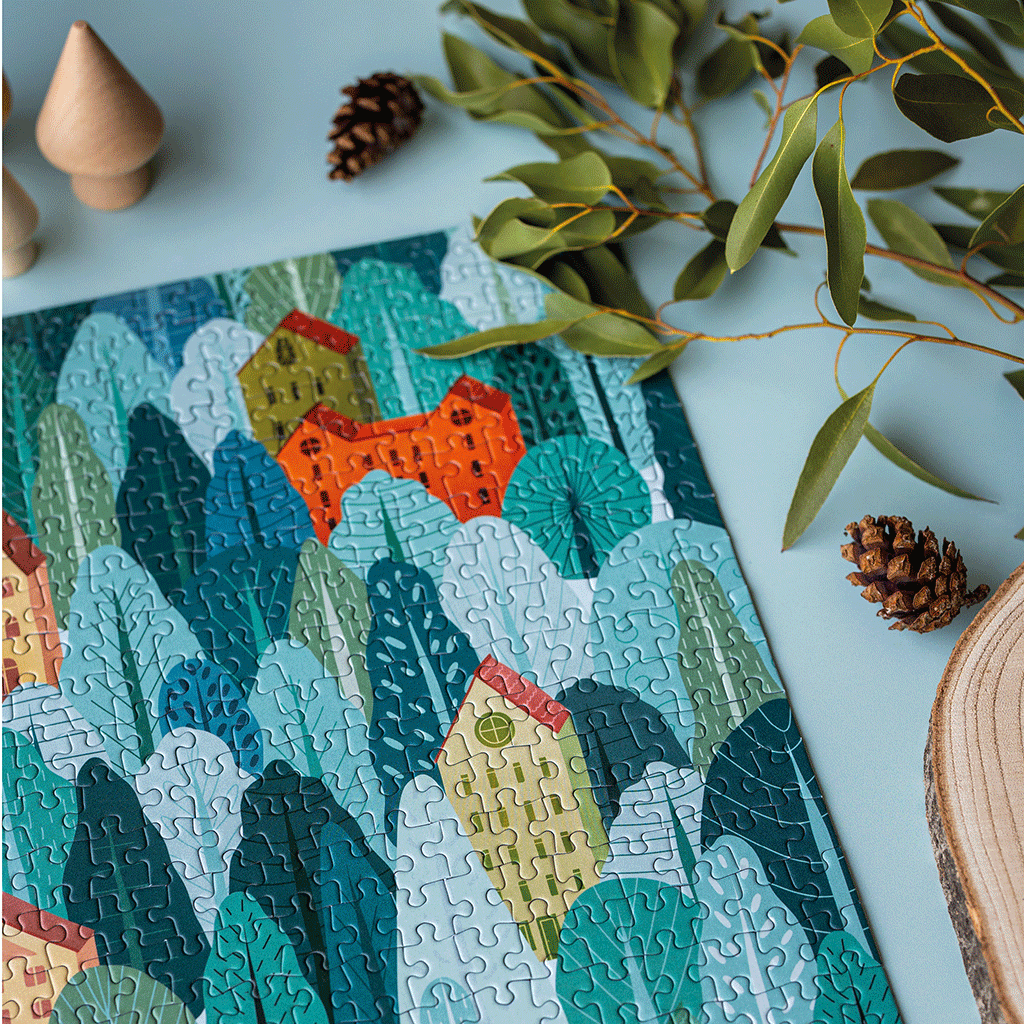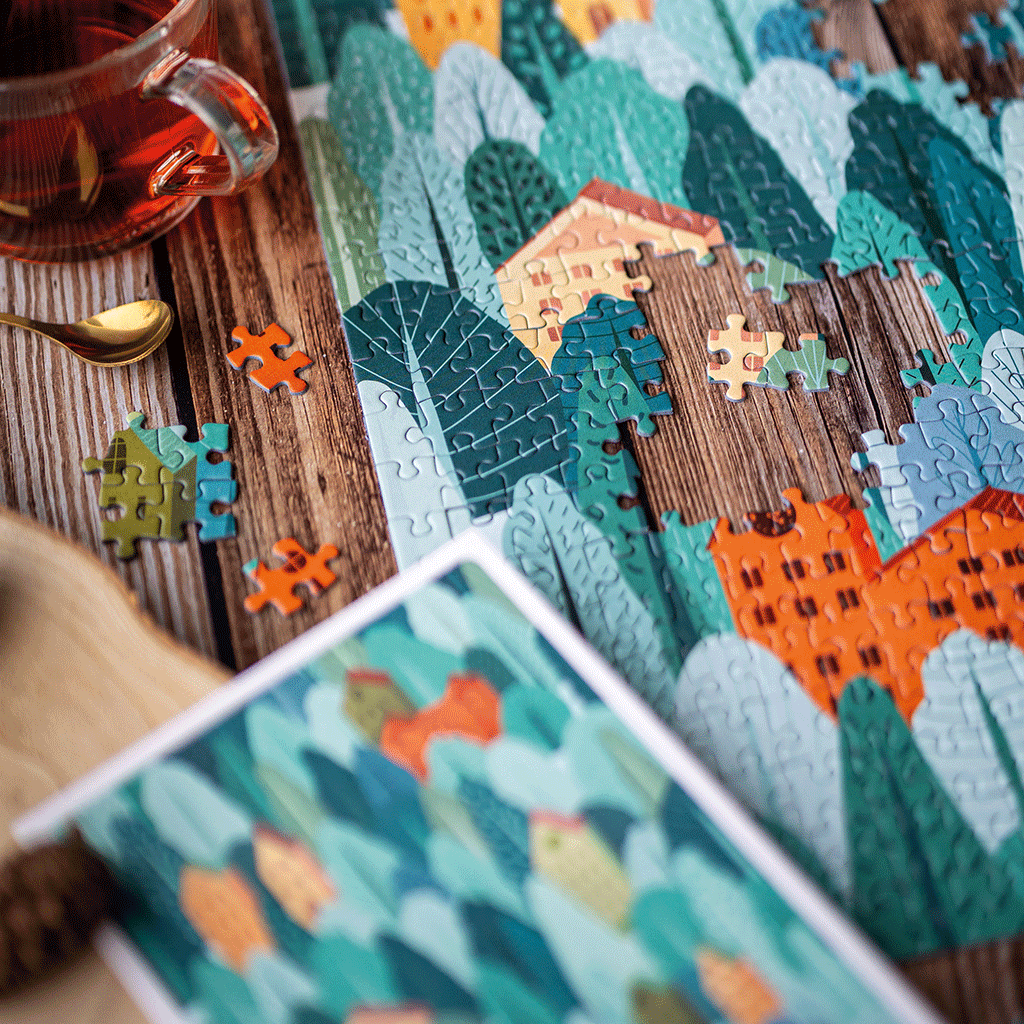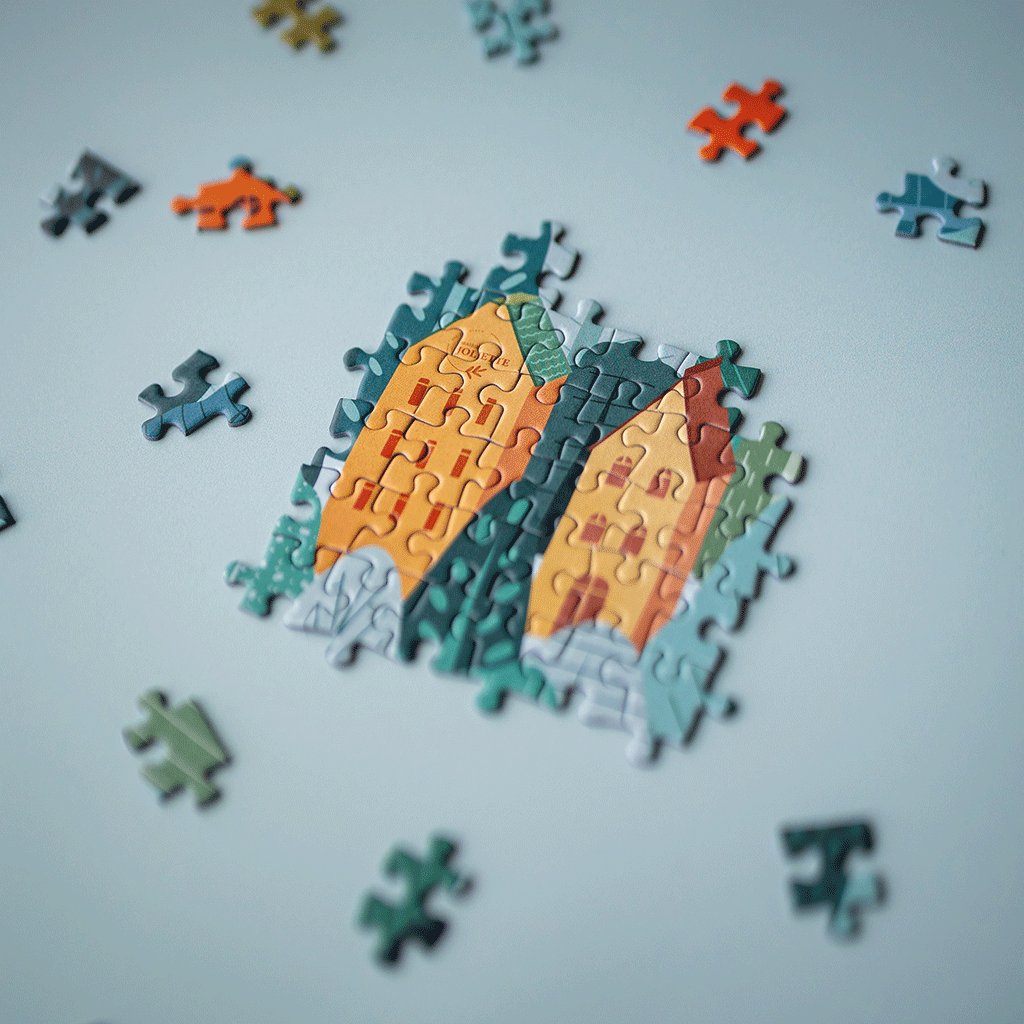 " Happiness is a big puzzle
of which we already have all the parts... "
Made in France

Our puzzles are made in the east of France , in the last company to still have this know-how.

Environmentally friendly

The paper and cardboard used to make our puzzles come from sustainably managed forests.

Modern graphics

Farewell kittens and castles in Bavaria, make way for modern and colorful graphics!

Solidarity

Each month, a new association will be honored and 1% of the profits will be donated to it.

Quality

The quality of the parts and materials is a must for optimal fitting of the parts and a pleasure to puzzle!